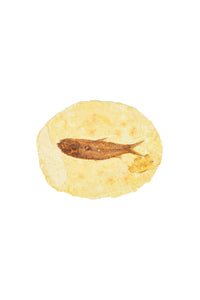 Single Fish Fossil
Regular price
$30.00
$0.00
Unit price
per
The Green River Formation of Wyoming produces some of the best preserved and most abundant fossil fish in the world. The unusually excellent preservation of the Green River fish fossils is usually attributed to a combination of two factors: 1) a cold period during the Eocene that would have caused dead fish to sink faster due to a less inflated swim bladder; and 2) the great depth of the lakes and the consequent anoxic conditions that would have often prevented scavengers from disturbing the carcasses.
Dimensions (Approx.)
2.5 x 2.5"
Origin: Green River Formation, Wyoming
Age: 45 - 50 Million Years Ago 
This item includes a certificate of authenticity and info card
*No two fish fossils are exactly alike. The item you receive may have slight variations from the one photographed. The picture above is an example of a possible specimen. If you wish to see the item before purchase, please email us.
---